Phone: (360) 696-9194    |    Service by Appointment, Tuesday - Saturday, 9am - 6pm, some extended hours available

Custom Hair Cuts
Please see photo gallery on the homepage for examples of Mike's hair styles.
Custom designs for men, women and children of all ages. Mike works with all styles of hair, from long and layered to short and sassy. Mike understands the difficulties of curly hair, the styling problems of ultra fine hair, and the reactivity of thick, bushy hair. From the shag to the classic bob and the high-&-tight clipper cut, Mike uses sculptural cutting techniques to enhance and balance facial features. Mike will gladly help coach you on styling techniques so you can maintain your precision cut, loose style, professional look, or wash and wear style. If you are "hair style challenged" and have difficulty getting your hair to behave, don't worry — Mike can help guide you to something easy. A wide variety of styling products and styling tools are available to help make things easier for you.
Custom Hair Color
Mike, a master hair colorist, uses Redken color products, including permanent Color Gels, Shades EQ semi/demi-permanent colors, blonding lifters, and grey camo-color for men. Services include color correction, color reversal, Hi- Lighting, Low- Lighting, glazing, eyebrow tinting, and special requests for fashion or psychedelic colors. Henna can be used for clients with chemical sensitivity. Mike carries a full color pallete and color care products. Color service can give fine hair more body, and give dull hair more shine.
Perms and Chemical Straightening
Treatments can be applied to virgin or color treated hair. A variety of perms are available including low ammonia vegetable based perms for softer & gentler curls, or exothermic perms to condition coarse or resistant hair. Mike prefers the Rusk Anti-Curl chemical relaxing treatment, or the more extensive thermal straightening service. Keratin-Based Thermal straighteing takes about 4 hours, and Mike uses products that do not contain formaldehyde in order to protect your health. Keratin-Based straightening can last several momths, where chemical relaxers need to be repeated more often. The Washington State Department of Health has issued a public health advisory for hair straightening products that contain formaldehyde, such as the Brazilian Blowout, and such products are not used at The Art of Hair. Flat iron sprays, anti frizz remedies, smoothing serums, curling and straightening irons are also available to help take care of your straightening service at home.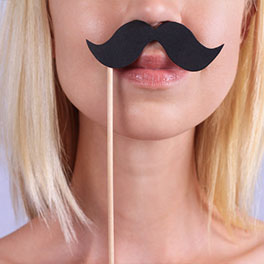 Permanent Hair Removal
Epilfree is a gentle enzymatic topical formula created by doctors to permanently reduce unwanted body hair. Similar products have been used in Europe for the past 20 years, and Epilfree is proving to be even more effective, especially when treating coarse, thick, stubborn hair. The topical formula is applied directly following a waxing service. The enzymes enter the skin through the evacuated waxed follicle and safely render inactive those cells that re-grow body hair. With treatment, hair regrowth is substantially slowed, and permanent hair removal can be achieved with repeat treatments. Recommended treatment intervals are designed to interfere with regular hair re-growth cycles of the body. Depending on the area of the body treated and hair thickness (such as upper lip or underarms) complete hair reduction can be achieved in fewer treatments. The procedure will also reduce pain in connection with waxing, increase the intervals for depilation and leaves skin smooth and soft between treatments. Unlike laser hair removal (which requires a doctor's supervision) Epilar works on all skin and hair types, colors, and textures without the sting, burn, and inflammation. Removal of hair follicles in the active growth phase will result in permanent hair removal with repeat treatments.
Hair Extensions
Mike prefers the clip-in or clamped-in methods for hair extensions to protect the integrity of the natural hair (fusion extensions can damage hair and require extensive maintenance). Extensions can be matched to your natural color, applied as contrast color, and can be highlighted. Extensions can be flat or curly and textured. Real human hair extensions are preferred because they are safer, and the client can curl or colorize as desired (acrylic extensions are a fire hazard and cannot be curled). A set of clip-in extensions can be applied and removed by the client for special occasions. Clamped-in extensions last for 5-6 weeks, and then require easy repeat maintenance to remove and reapply to keep up with natural hair growth. Clipped ad clamped extensions can be removed easily without damage to the hair.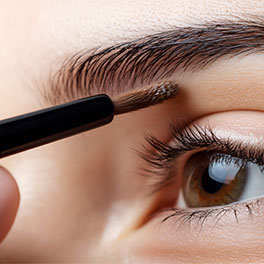 Eyelash Treatments
Special professional vegetable based pigments are used to enhance the color of eyelashes. The process takes about ½ hour. Most common colors are deep black, brown, brown/black, red, and blue-based silver. Topical lash growth excelerator treatments also available for daily home use to help make lashes naturally grow thicker and longer — the treatment brand offered is safe without side effects like discoloration of eyelids or iris of the eye.
Formal Updos
Formal elegant styles for weddings, proms, and special occasions. Hair extensions can be combined into an updo service. Veils, tiaras, flowers, jeweled pins, braids and combs can be used for special effects. Consultations welcome. Practice updos prior to the date of the event are recommended. Back to back appointments can be arranged for a limited number of members in a wedding party.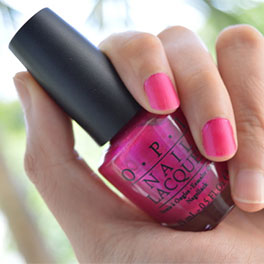 Nail Services
Classic Manicures and Pedicures for natural nails include: soak in warm essential oils, exfoliating scrub, cuticle repair, nail shaping, massage and hydration, and polish if desired from a wide variety of chip resistant nail lacquers. Nail strengthening polish available for brittle nails. Paraffin treatment, pumpkin fruit acid peel, microbermabrasion, or deep penetrating foot masque can be added for advanced treatments. Artificial nail services not provided.
European Facial
A European Facial is a wonderfully soothing treatment that will help heal and rejuvenate your skin. Treatment takes approximately 90 minutes. Facials include aromatherapy steam to open pores, gentle fruit or chocolate peel for exfoliation, a deep penetrating mask for rehydration, massage, toning, extraction, and paraffin dip for the hands. Microdermabrasion can be added. Microdermabrasion gently removes dead skin buildup, unclogs pores and softens skin for a more healthy and vibrant glow. The treatment uses natural ingredients combined with the finest micro-crystals to help smooth away fine lines, small scars, and minor skin discoloration. This treatment is an effective anti-aging regimen. Advanced pumpkin fruit acid peels also available for deeper exfoliation.
Full Body Waxing
Mike uses a soy based wax that is antimicrobial, antibacterial, & sugar-free. Waxing can remove hair on over 95% of your skin surface. Soy wax goes on body temperature, does not harden, and completely clears the hair follicle including the bulb, shaft and papilla from below the skin surface. Originally developed for surgeons to remove hair from their patients before a surgical procedures, soy wax is the gold standard for waxing with longer lasting results. Hair is removed with reduced pain, with less redness and skin irritation. The most popular waxing services are a full back wax for men, the brazilian service, and eyebrow sculpting. Grooming services also include body clippering, body shaving, and cream depilatory treatments that are safe on sensitive areas — non-wax grooming services are more temporary methods of body hair removal.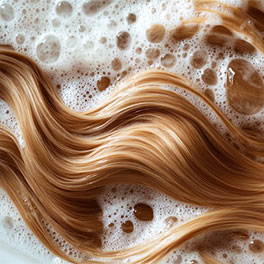 Products
Professional Hair, Skin and Nail Care Products
The introduction of a prescribed regime is the most common cure for problem hair and skin. Any available professional product can be special ordered to meet your needs. The Art of Hair's collection of products has been devised from years of experience, and offers a wide variety of reasonably priced brands and formulations to achieve maximum benefit:
* Natural botanicals, marine extracts, and vitamin enrichment * Sulfate-free and lightly scented formulas for chemically sensitive people * Compressed technology to use 30-50% less product * Increase circulation, cellular renewal, brightness and prevent aging * Sunscreen UVA/UVB protection * Gently eliminate environmental and chemical buildup without stripping * Surface repair to maintain moisture, shine and deep conditioning * Protection for color treated hair to prevent oxidation and fadage * Strengthen and volumize damaged, brittle, distressed, limp hair * Frizz control and smoothing serums for unruly hair * Define and condition curly hair and enhance curl retention for perms * Lightweight moisture and detangling to enliven fine hair and prevent static * Styling aids that allow firm and flexible hold without the "helmet" effect * Mediceutical aids to address eczema, dermatitis, dandruff, acne & itching * Programs to promote regeneration for thinning, weakened hair & scalp * Long lasting styling tools for ease and efficiency * Professional hair and skin products are authorized to be sold only in professional salons. * Professional brands sold in food, drug, or mass retail stores are diverted, unauthorized.